Desert Safari in Egypt
Enjoy an Eco-tour with the deep secrets of the desert safari.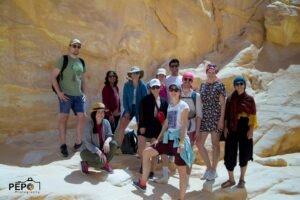 in Egypt and meditate in the greatness of the beauty of the Great Sand Sea.
The Western desert lies on the western side of the Nile of Egypt which includes five different oasis scattered from north to south like Baharya oasis, Farafra oasis, Dakhla oasis, Fayoum, Siwa and Kharga.
You can enjoy it alone or merge it with any other visits in Egypt as Giza Pyramids
, the Egyptian Museum, the Citadel,
Old Cairo or the Nile cruise tour…will take you to the beauty of the nature, the magic of the desert, the charm of the starts, and the camping in the open air .
Desert Safari in Egypt tour, you will be taken from Cairo to Baharya oasis for four hours, to enjoy the White desert, Black desert, and visit some tombs and museums that date back to the late period of ancientEgypt, other oasis visits include desert safari, camping, hiking and the jeep safari car drivers will do the double function job which is driving and cooking.
You will enjoy the best meals under the stars like the grilled barbecued beef and chicken served with salad and rice, apart from the light snacks as breakfast and lunch around the basins and the springs of the Western desert of Egypt.
One of the main attractions in the western desert of Egypt is the White Desert; which lies in Baharya oasis that considered as one of the main national parks of Egypt. The White desert existed even millions of years ago, formed by the great ocean and sea which were existing here, you can still see fossils of shells and different other sea life creatures too.
desert safari on the western desert has got many water springs either hot or cold, which are really useful to our bodies, cure bones and all the skin issues, besides the several salt lakes at Siwa. By the spring side you can swim, dip your feet, which your drivers prepare your delicious food if it is the light healthy breakfast or the barbecued Bedouin mutton, beef or chicken along with appetizers, rice and a drink.
Enjoy the desert safari adventure in Egypt with all activities.
Overview
Desert Safari Egypt tour starts in Bahariya Oasis and in ends Kharga Oasis.
Starting from Bahariya Oasis, it runs for 672 kilometers (418 miles) through a desert landscape pocked by dunes and lofty escarpments. The highlights of this tour include hot and cold springs of Bahariya Oasis and the Black Desert in and around Bahariya Oasis, the lovely Agabat Valley and the spectacular White Desert near Farafra Oasis, the historic center of al-Qasr and the Deir al-Hagar in and around Dakhla Oasis, the Necropolis of al-Bagawat near Kharga Oasis.